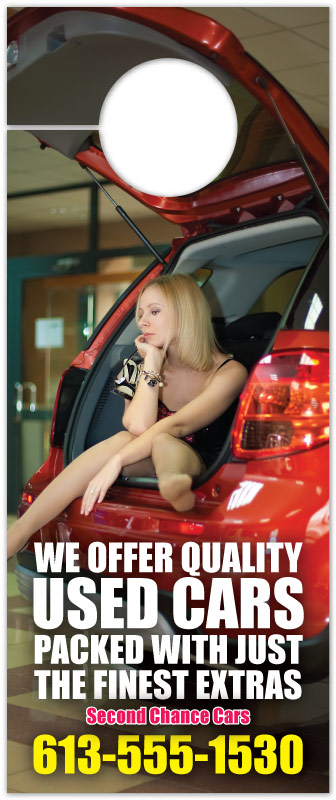 scroll down for more samples
Custom Full Color Double Sided 3.5" x 8.5" Mirror Danglers / Door Hangers
Mirror Danglers are professional products to advertise your services in a great, efficient way. You can just hang one on the interior mirror of your customer's vehicle. Also, you can use mirror danglers to inform your customers about must do steps after they've visited your garage, dealership, like after a tire related repair or tire change/rotation service you can say "Please do not forget to bring your car back in 100 Kms to have your wheel-nuts re-torqued!"
StickePla.net provides professional high quality printing with gloss AQ coating on 14pt 95 Bright Stock. One sided or two sided mirror danglers are at the same affordable prices. We provide High Quality CMYK 4/4 print at 2400 DPI / 300 LPI.
Mirror Dangler/Door Hanger Prices :
1,000


24.9¢ ea

2,500


13.6¢ ea

5,000


10¢ ea

10,000


9.5¢ ea

14pt Gloss AQ Card Stock
C$249.00
C$339.00
C$499.00
C$949.00
Order your Mirror Dangler/Door Hanger now :
Sample Mirror Dangler/Door Hanger Artworks
You can browse a few custom Mirror Dangler/Door Hanger artwork designs below, and by clicking on any thumbnail images you will see the artwork samples in higher resolution
A few reasons and advantages to order your Mirror Danglers / Door Hangers from StickerPla.net:
there is no color charge, or 2nd side printing charge
there is no any hidden cost on our products, the price you see is the price you pay !
we offer the standard Mirror Dangler / Door Hanger size :3.5" x 8.5"
Gloss AQ coating
unique high resolution printing
full bleed printing, you won't see white borders around, printed till the edges
full color 4/4 CMYK printing
we use high quality 14pt 95 Bright Card Stocks
$10 flat regular shipping charge to any addresses in Canada. Expedited, overnight or express service extra.
$20 flat rate tracked shipping to US addresses 
however your first two orders must be paid in advance, starting with your third order we offer net15 and net30 payment conditions without credit check ! 
3.5" x 8.5" Mirror Dangler / Door Hanger product information:
4 color printing process, using CMYK ink configuration
14pt 95 Bright Card stock
2400 DPI / 300 LPI High Resolution Print
Gloss AQ VOC-Free coating
Double Sided Print
3.5"" x 8.5"
full bleed printing
6-7 days turnaround
Standard shape die-cut

download artwork template